Crawfords Butchers (020 8422 4922)
Please mention you found Crawfords Butchers on Northolt Local
Quality butchers in Oldfields Circus, Northolt. OPEN EVERY DAY. Fresh, prepared and cooked meat, goat, mutton, burgers, sausages, scotch beef, delicatessen, pate, fresh eggs, cheese, grocery, Irish foods
New season Queens potatoes, from Ireland, fresh every Wednesday
39 Oldfields Circus
Northolt
UB5 4RR
Contact: Scott, Chris
Phone: 020 8422 4922
Opening hours
| | |
| --- | --- |
| Monday: | 8.30am - 7pm |
| Tuesday: | 8.30am - 7pm |
| Wednesday: | 8.30am - 6pm |
| Thursday: | 8.30am - 7pm |
| Friday: | 8.30am - 7pm |
| Saturday: | 7am - 6pm |
| Sunday: | 8am - 4pm |
| | |
| Bank holiday: | Bank holiday 8.30am - 4pm (early closing) |
Looking for a Sunday Roast? Or a tasty snack? Or maybe a nutritious but easy-to-cook evening meal after a long day?
How about a Full English Breakfast: homemade sausages, black & white pudding, bacon, kidneys plus a Celtic twist with haggis!

We have a wide variety of fresh meat, grocery, cheese and eggs.

Plus various Irish foods including tea, chocolate, and cakes. A Queens potato delivery every Wednesday, available in 5Kg bags.
Drop in any time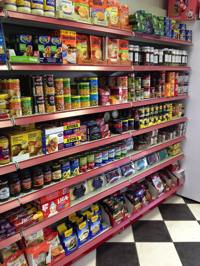 Grocery
Topside
Rib on bone
T Bone Steaks
Fillet Steak
Whole
Fillets (Plain, Garlic, Tandoori, Smokey, Spicy, Italian, Chinese)
Breasts on the bone
Legs on the bone
Thighs / Drumsticks
Wing tips (Plain, Smokey BBQ, Jamaican Jerk, Spicy Marinade with cinnamon)
Diced Chicken
Chicken Kiew (Home-made)
Chicken Burgers (Home-made)
Fillets
Belly
Diced Pork
Stuffed Loin
Tenderloin
Chops
Mutton: diced & on the bone
Fillets
Diced Lamb
Minted Lamb Chops / Chump Chops / Double Chops
Boneless Minted Lamb on Sticks
Racks
BBQ Lamb Rocket
Stewing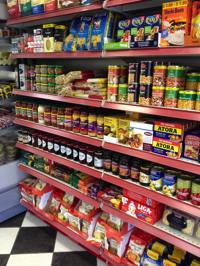 Grocery
Dutch Rump Veal
Dutch Calves Liver
Duck Breast
Streaky
Back
English Dry Cured
Mince (freshly minced on premises)
Scotch Beef
Scotch Steak
Pork
Lamb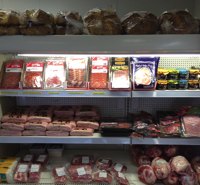 Delicatessen meats
Home-made sausage meat
Pork & Leek
Pork Herbies
Minty Lamb
Plain Pork
Pork chipolatas
Prime Beef
Prime Lamb
Chicken
Pork & Leek
Pork & Herb
English plain Pork
English Lamb
Smokey English BBQ Pork
Kebabs (fresh chunks of meat with peppers on skewers)
Pork
Chinese Pork
Chinese Chicken
Smokey BBQ Chicken